---
Abstract
The life-science departments will lead an effort to increase persistence among majors by transforming introductory science courses into increasingly authentic research (AR) experiences. Under our Flexible Authentic Research Model (FARM), each student selects the type, amount, and schedule of AR; departments can adjust resources to accommodate students' choices; and faculty can provide activities consistent with their disciplines and their courses' pedagogy and curricula.
To engage the largest and most diverse population, we target the first-semester Introductory Biology course, which is offered to all majors but required by life-science majors, the two-semester General Chemistry course for life-science majors, and the discipline-specific introductory courses for life-science majors.  We will revise laboratory sections to emphasize scientific practices beginning with identifying a question and continuing through experimentation and quantitative analysis to communication with diverse audiences.
We capitalize on our experience conducting inquiry-based labs since 1998.  During Introductory Biology (serving approximately 9000 students during project) students will receive a guided experience that will initiate students into the practices of formulating proposals and conducting and revising experiments and manuscripts in response to expert and peer review through multiple experimental cycles over several weeks for each topic. To familiarize students with OSU's research culture and research opportunities, we will introduce concepts in the context of ongoing research.
Our goal is to shift the culture regarding the relation between education and research campus-wide, with STEM undergraduate majors being energized through AR and faculty viewing undergraduate courses as opportunities for research. Under FARM, students entering subsequent discipline-specific introductory courses can choose AR sections. In those, research will be more open and long-term and have the goal of providing at least exploratory data to ongoing or future faculty research projects when possible.  Courses will incorporate student-edited, peer-reviewed journals and opportunities for students to continue working with data or systems from previous courses.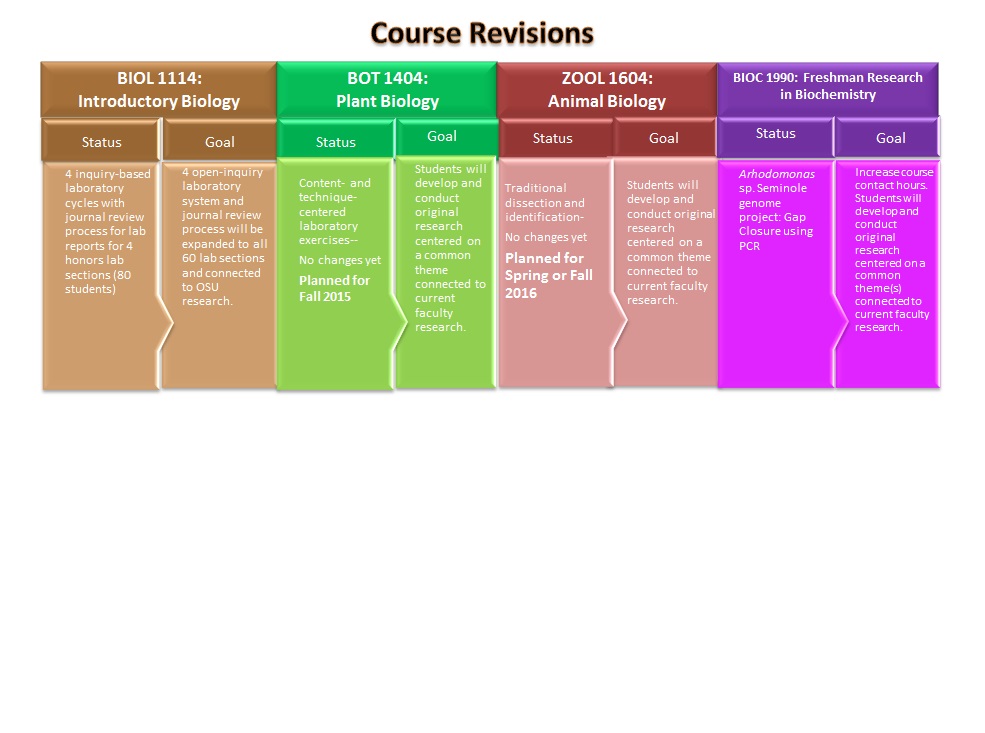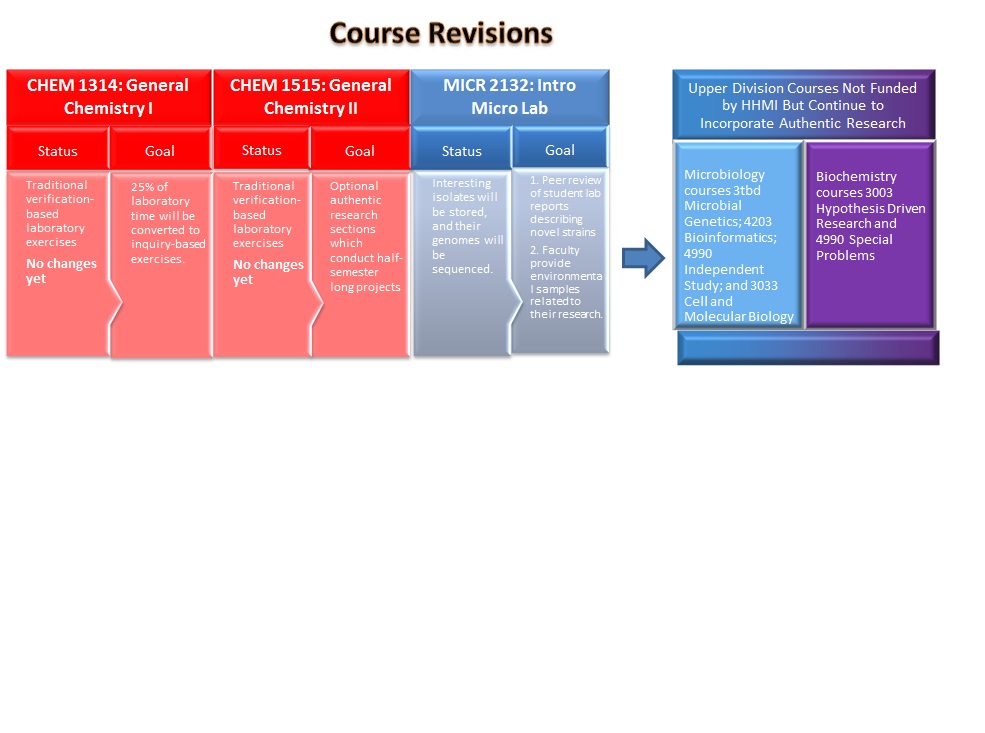 Students who enter OSU interested in research will be directed to our new Life Sciences Freshman Research Scholars (LSFRS) program.  In the first semester course, LSFRS will learn research skills, identify research mentors, and prepare proposals.  In the second course, students will conduct research with faculty and continue to exchange ideas with LSFRS instructors and peers.
To encourage all students to join the research community, we will create a series of networking events spanning the school year.  Events will promote connections among first-year students, upper-classmen, faculty, and staff, highlight first-year students' research, and allow first-year students to see the work of upper-division students, explore research  conducted by all life scientists, meet career services' and student groups' representatives, and interact with guest researchers after department seminars. Furthermore, we will leverage OSU's position as a leader in number of STEM BS degrees earned by Native Americans and collaborate with new and well-established programs, tribal elders, and networks of mentors that support URM participation in research to offer professional development and cultural events that encourage participation and sense of community among Native Americans in the life sciences.
We will assess FARM's overall role in increasing student persistence in STEM using yearly retention data pre-post intervention. To identify characteristics of students who benefit most from each component of FARM we will also measure psychological and individual differences (e.g., sense of community, perceived person-environment fit, intrinsic interest, utility value, identity as a researcher), performance, scientific skills, and attitudes.